"Susan Purvis has written a brave and profound book about the eternally compelling topic of human survival. No one can truly understand the wilderness without going deeply within themselves, and perhaps vice versa. Purvis has done both and come back with truths that we all can learn from." —Sebastian Junger, New York Times bestselling author.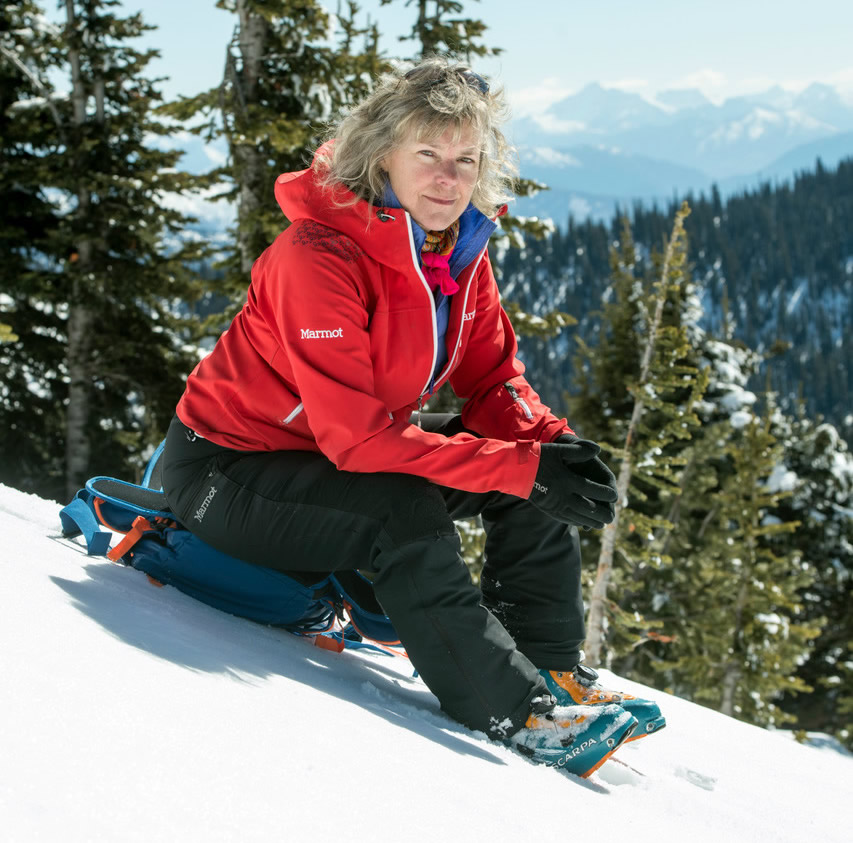 Susan Purvis is an empowerment speaker, explorer, educator and author of the bestselling outdoor adventure memoir, Go Find. Susan spent her entire career in the outdoors. Her book chronicles two decades of saving lives and teaching humans and K9's to do the same. She found passion and purpose in training avalanche dogs, search dogs, cadaver dogs and became a K9 dog training specialist. Susan spent years leading wilderness survival trips, search and rescue training, and wilderness medicine courses. Go Find is a rare find if you are searching for avalanche books, survival books or anything between pet care and mountain climbing or a book about finding your way.
A note from Susan Purvis,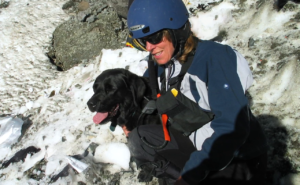 Early in my career and newly married, I worked as a gold exploration geologist in the Dominican Republic. I navigated for a living, always carried a map and compass and prided myself on never getting lost. On a whim, I bought a 5-week-old black Lab puppy named Tasha. She gave me purpose and passion when I decided to train her to be the best possible search and rescue dog with a vow to never leave anyone behind.
We were on our way.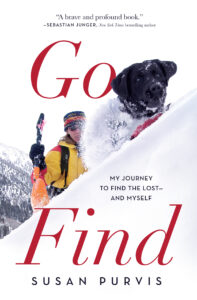 Tasha and I certified in wilderness search, avalanche, and water search and rescue in the high country of Colorado. We found victims of crime, tracked to save a boy lost in a snowstorm and found numerous victims in lakes and avalanches. After Tasha's retirement and a move from Colorado to Montana, I went through a series of losses that inspired me to write my memoir, Go Find: My Journey to Find the Lost–And Myself.
Why? I discovered in the writing process that I was as lost as anyone I ever found. My husband left, my dog died, and I became so lost, buried so deep in grief that I thought I was going to suffocate. That's when I questioned why and how does the expert get lost. 
My new passion and purpose is simple. I'm here to share my story how I unburied myself so other people won't get lost in life or buried in their own metaphorical avalanche. Through my empowerment speaking and educational courses, let me help you navigate your hardest challenges and fears and turn them into opportunities.
Feeling Lost in LIfe? Off Path? or Buried Eight Feet Under? You've come to the right place.
What's Trending Go Find Fall 2019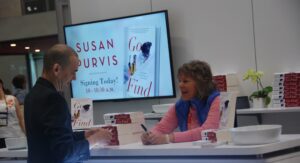 Author Susan Purvis Finds Herself With a Dog, Writing and Go Find
The Avalanche Review – Go Find Book Review
Beginners to Bestsellers:  Writers Conference
Go Find gives advice to 8th graders
Go Find hits #53 in the NOOK Top 100! Oct, 2019
Podcast: Outside By Design – Empowering People with Susan Purvis
How 'Go Find' author looked for others and herself with search dog
Ardent for Life – Summer 2019 – Go Find – More than Mere Dog Command
Montanan Magazine: Lost and Found – Sue Purvis recovers the fatal and finds herself.
Sierra Club lists GO FIND as top 15 best reads.